Good Morning my Lovelies, I hope you are all having a wonderful time over this New Year weekend and you are fully recovered from your celebrations. We had a fantastic response to our last challenge and hope that you will join us again this fortnight.
Over at
Creative Inspirations
it was the lovely Jude's turn to choose the theme and she has asked that you use
"Something New"
in your creation this time.
I've got a few new items on my card, first thing is the frame that my DH made for me from light balsa wood, he has made me 5 lovely different shaped frames out of some scrap material he had left over, after it was all sanded down etc I painted it white, sanded it, painted it blue and sanded again to give me this distressed look. My other new items are the BigZ sissix star die that I cut out in card and paper, glued them together and stickled them with waterfall and my new white cross grain ribbon. The full recipe for my card is at the bottom of this post.
We are sponsored this week by the wonderful
Simon Says Stamps
who is very kindly giving one lucky winner a $10.00 voucher with free shipping to spend in store, where you will find everything you need for your passion to craft.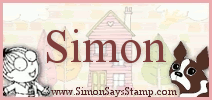 We are also being sponsored by the wonderful
Whiff of Joy Stamps
and the winner will receive "Nora blowing kisses " from the new Valentine Collection.
We do hope you will join us for this our first challenge of 2011 we look forward to seeing your wonderful creations over the coming weeks.
Do please pop on over to the blog and take a peek at the wonderful creations my sweet teamie friends have for you this week. Outstanding and beautiful as always.
Bye for now and have a wonderful day.
Challenges Entered:
Crafty Catz Weekly Challenge:
This week the theme is slightly in your own hands you choose one of the past challenge weeks and create something using that theme. I've chosen #44 buttons and bows.
Ellephantastic Challenge:
Have the theme of New Beginnings.
ABC DT Challenge:
This month the theme is Baby it's Cold Outside. I think my card will suit. I'm sure it's cold and bewildering for any new baby. lol.
Recipe:
DP: Trimcrafts pepper and friends
Image: Magnolia's Baby Tilda
Medium: Pro Markers and staedler water colour pencils
Background Die: Marianne D's
Sizzix BigZ star die
Ribbons: fantasticribbons.co.uk
rocking horse button and blue buttons: Stash
chipboard sentiments: papermania